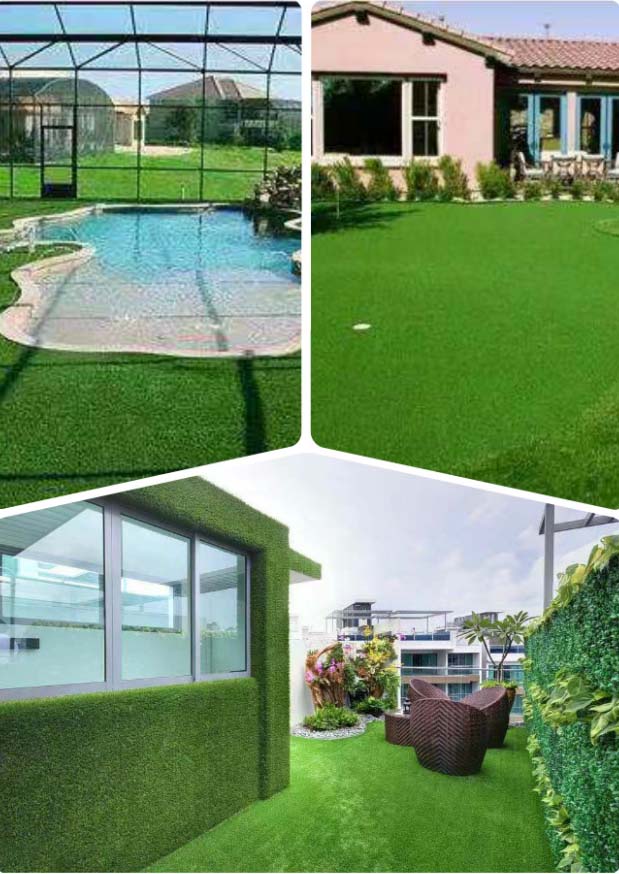 Artificial grass is a great way to add a natural touch to your patio or garden because they are beautiful, durable, affordable, and easy to maintain, no need to worry about upkeep! All you need is some artificial grass and some basic gardening supplies to get started. In this article, we'll show you how to install artificial grass in your patio or garden and provide artificial grass decorating styles and design ideas for your reference.
1. Types of artificial grass Artificial turf is a decking material made of synthetic fibers that looks and feels like natural grass. It consists of a mesh tufted on a backing material. The backing material is then covered with glue. Artificial turf can be used to decorate patios or gardens and can also be used as sports fields.
2. How to install artificial grass
Artificial grass is great for garden or patio decoration. There are many ways to install artificial grass. First, you need to prepare the area where the sod will be installed, remove any existing landscaping and clean the area. Then, prepare the surface by applying a thin coat of sealer or bitumen. Finally, place the sod in the desired location and allow it to dry. For the specific installation method, please refer to the artificial grass installation.
3. The benefits of installing artificial grass
Enhance your space
The reason for installing artificial grass on your patio or garden is to make your space more aesthetically pleasing. It can add more functionality to your least available areas. Decorating artificial turf on your patio or garden can also boost property values.
Safety benefits
Concrete and wood surfaces become very slippery and dangerous when wet. But artificial grass provides a softer, safer surface. Artificial grass helps avoid mold growth on decks, and drainage cores are installed under the turf for quick relief from wet areas.
Easy to maintain
Because it is artificial, it does not require pruning or watering. Lawns can be rinsed with water and a cleaning solution like most indoor surfaces, or even with a vacuum cleaner. For any unwanted leaves or leaves, you can simply pick them up by hand or use a rake to form a pile.