Are you an artificial turf manufacturer?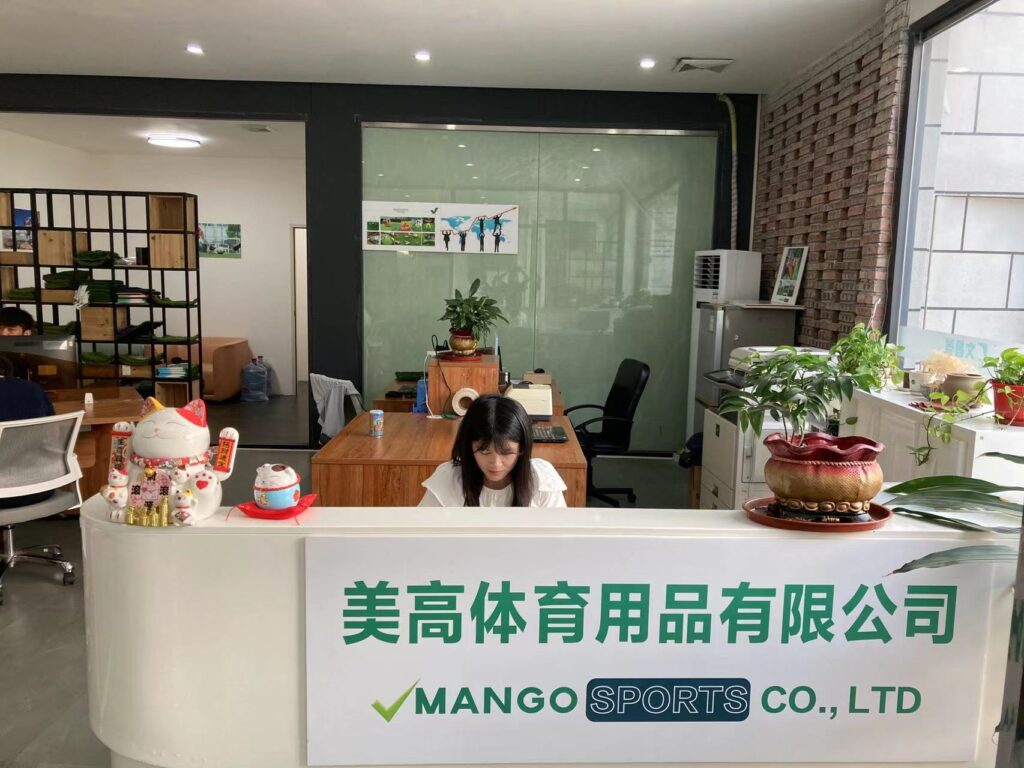 Yes, we are the manufacturer. In fact, We have specialized in artificial grass fields since 2001. After 21 years of development, now, we have rich connections in China in this field.
At present, we have roughly 60 workers in our factory. 40 for production, 5 for packaging, and the rest for quality control, material purchasing, and some internal work.
Many brand buyers have had good cooperation with us, they are all over Europe and America, Australia and other regions.
You can click here to know more about our factory. We are happy to be your potential artificial grass supplier.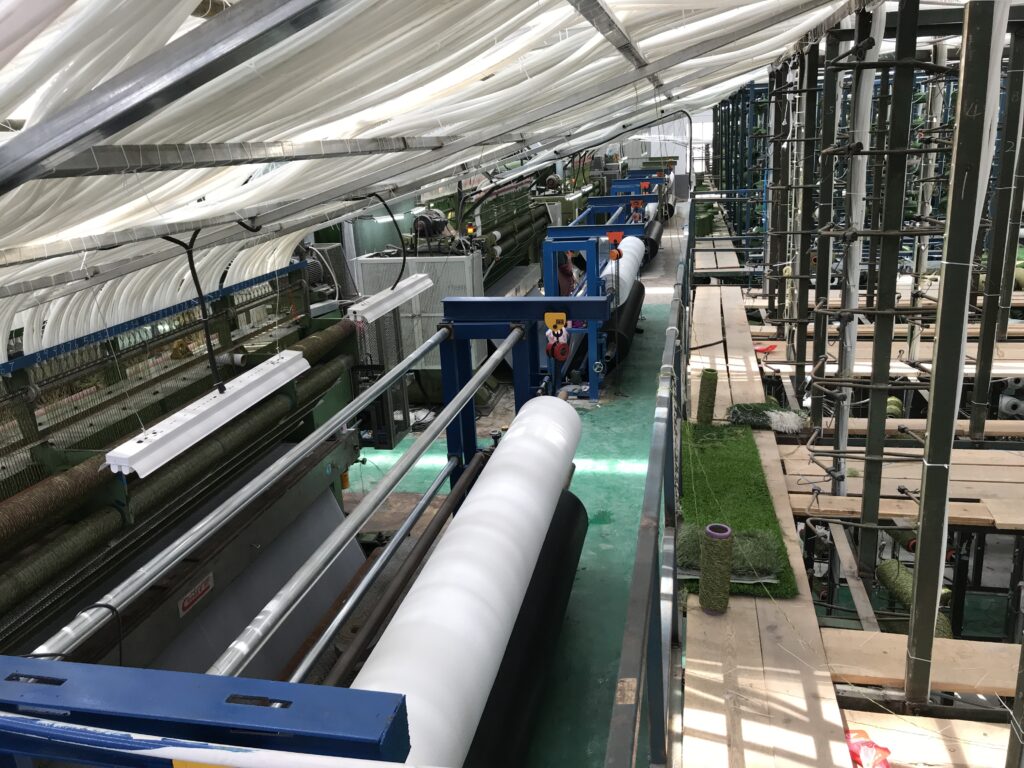 What is the scale of the factory?
Our artificial grass production capacity is 2.5-3 million square meters. The factory supplies self-sufficient grass fiber, 9 wire drawing equipment, 5 tufting machines, 2 of which are imported equipment, and a 30 M-long drying tunnel. we have roughly full-time workers 60 in our factory. The factory is considered a medium strength and can meet the needs of most customers and the market. Our pricing is reasonable and competitive among similar quality products.
Since its establishment, the company has taken the ISO9001 quality system as its management blueprint, implemented standardized management in an all-around way, and passed the ISO9001-2000 quality system certification in February 2004 and the ISO14000 environmental system certification in March 2004. The three major raw materials are all well-known brands at home and abroad. The grass fiber and base fabric are high-quality products from Yizheng Bona, a joint venture between Yizheng Chemical Fiber and Bona, UK., and production process control. The artificial grass production chain is mainly distributed in Guangdong, Jiangsu, and Shandong. Our factory is about 2 hour drive from Shanghai port, and the container can be delivered to the port quickly.
Does your company have certification?

Since its establishment, the factory has adopted the ISO9001 quality system as the management blueprint, fully implemented standardized management, and passed the ISO9001-2000 quality system certification in February 2004 and the ISO14000 environmental system certification in March 2004. All our products are produced according to the requirements of CE, SGS, etc.
If you need products from FIFA, World Rugby, and FIH, click here for other services.
What artificial turf do you all offer?
The artificial grass we supply is mainly sporting artificial grass, leisure artificial grass, golf artificial grass, and accessories required for installation.
Sports grass: mainly used in football fields, in addition to football fields, hockey fields, tennis courts, and multi-purpose sports fields. The height of sports grass is high, and it is generally a straight single weave, emphasizing the product's wear resistance, resilience, pull-off, and anti-aging (UV and weather resistance) to ensure a good sports experience and long service life.
Leisure grass: mainly used in residential landscapes, in addition to commercial offices, municipal greening, exhibitions, and other different scenes. Compared with sports grass, the height of leisure grass is lower, and it is generally a blend of straight and curved yarns. Service life requirements are generally lower than sports grass. At the same time, the general filling of recreational grass only includes sand filling (to ensure that the grass filaments are upright). By following our social platforms, you can keep abreast of new product news.
Golf Artificial Grass: Sand washing and No-Fill Artificial Grass Greens, driving range, Commercial Hitting & Stance Golf Mats.
Our artificial grass is positioned from economical to luxurious, basically to meet the needs of different classes, with reasonable prices and market competitiveness.
5. Are Artificial grass samples available? How long will it take to sample?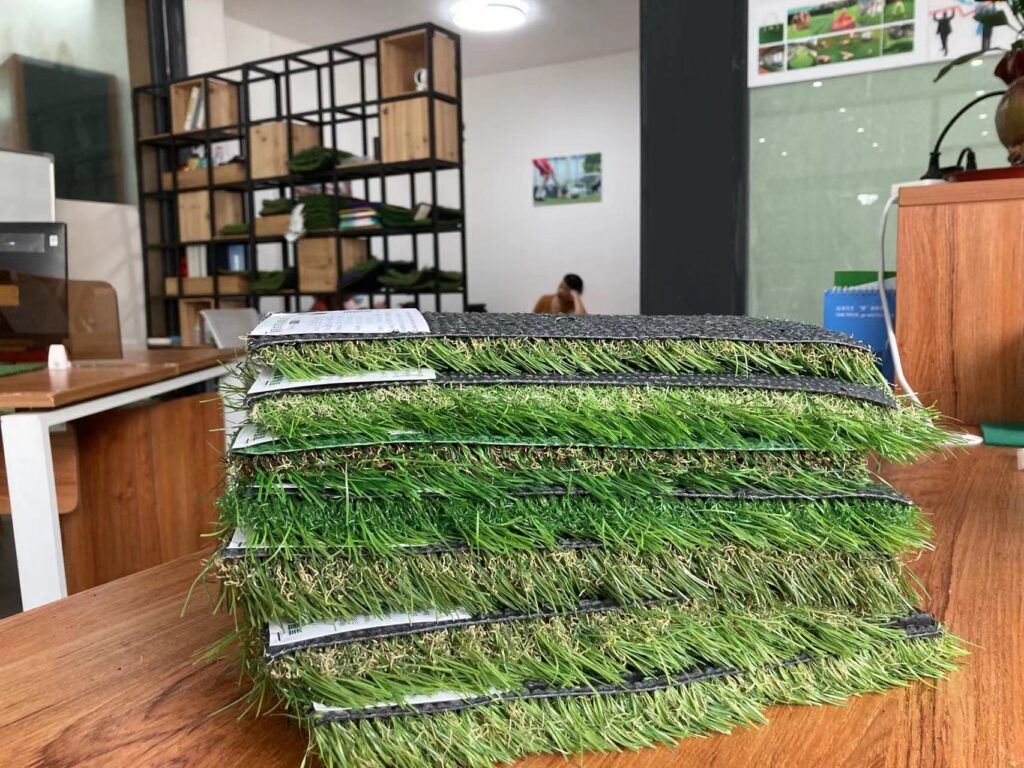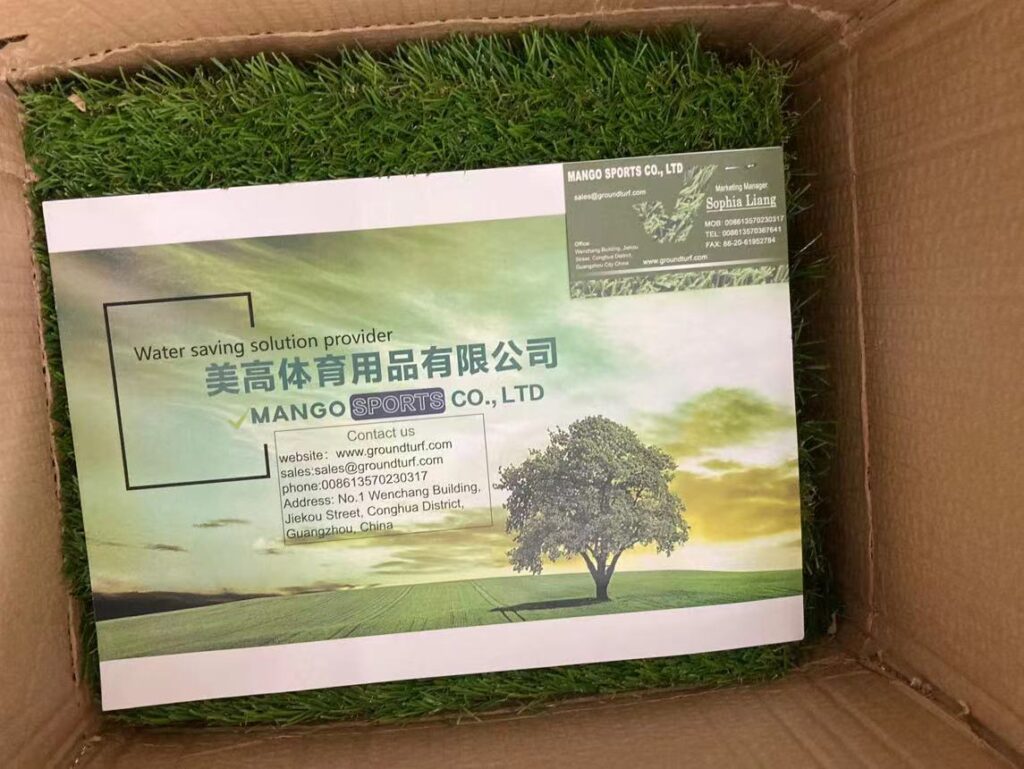 1 For regular samples in our sample booth, we are happy to provide free artificial grass samples at the client's delivery cost. Customers only need to provide the express account number. Artificial grass samples can be arranged on the day.
2. Customers are welcome to provide their samples and sample proofing, and the cost and required time need to be discussed according to the sample and quantity. Usually, samples can be delivered within 7 days.
The sample fee will be refunded in full in the order.
Artificial grass lead time?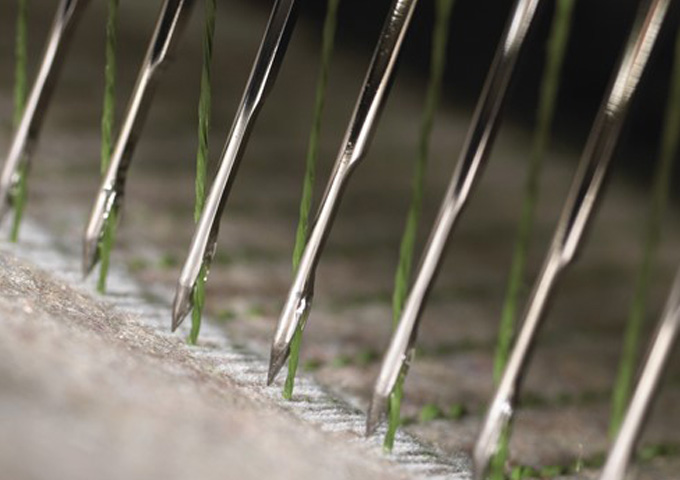 Title: How long can the 40HQ container be delivered? The normal production time is 18 days. It can be shortened to 13 days during the off-season from December to March every year. 25 days during the peak season from April to August every year. 20FT container can hold 2500-3200SQM, 40HQ: 6500SQM
If non-factory factors lead to delays in delivery, such as power outages, or natural disasters, we will negotiate amicably.