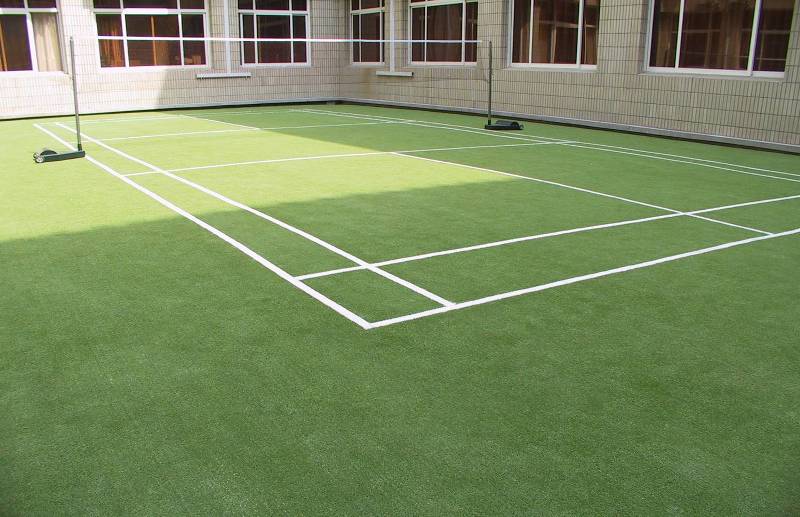 Outdoor tennis court ground materials include acrylic tennis courts, artificial turf tennis courts, polyurethane plastic (PU) surface materials, etc. There are many types, each with its own advantages. Then, how to construct the outdoor tennis court ground of various materials, what are the requirements and characteristics?
Acrylic outdoor tennis court on the ground
Acrylic tennis courts are suitable for professional players' competitions and training. Mainly water-based materials, fully comply with environmental protection requirements, have good wear resistance, are waterproof, sunscreen, non-slip, and can be laid on the surface of indoor and outdoor asphalt or cement foundation.
Adhesive layer: Coat a layer of special adhesive on the concrete base. The adhesive is a water-based epoxy resin that adheres tightly to cement surfaces and can be tightly combined with "series coatings" to prevent problems such as degumming and wrinkling.
Basic reinforcement layer: The coating made of acrylic emulsion does not contain asbestos, is mixed with quartz sand, and has the characteristics of good permeability and high strength. It can improve the strength, flatness, and service life of the site.
Filling layer: Lay the foundation of the acrylic color layer and quartz sand, and adjust the particle size and dosage of the quartz sand to control the speed of the ball.
Surface layer: Color UV-resistant acrylic topcoat is used to improve wear resistance.
Acrylic line paint: white line paint, strong coverage, easy to use.
Artificial turf tennis courts on the ground of outdoor
The advantage of artificial turf outdoor tennis court laying ground is that it can be directly laid on the concrete and hard sand ground without laying asphalt ground foundation. Simple structure, convenient maintenance, and long service life. Artificial turf is made of reinforced organic fibers, and its flexibility and elasticity are better than natural turf, and users can fully enjoy the sports feeling similar to natural turf.
Features of artificial turf tennis court surface products:
Low sliding resistance: Low sliding resistance, close to natural grass, effectively preventing people from scratching their skin and spraining their ankles when they move or fall.
Environmental protection: grass silk does not contain heavy metal pigments and can be used and recycled anywhere.
Wear resistance: It can be used at high frequency and has a service life of more than 10 years.
Weather resistance: suitable for various climatic conditions, high temperature, and cold resistance.
Anti-ultraviolet: It has good anti-aging and anti-ultraviolet performance, which can guarantee 8-10 years without fading or aging.
Polyurethane plastic (PU) tennis court on the ground
Polyurethane plastics can be laid on suitable asphalt and cement bases. The surface is also used as indoor and outdoor basketball courts, handball courts, volleyball courts, badminton courts, and other sports venues.
Features of polyurethane plastic products: good elasticity, wear resistance, non-slip, strong integrity, beautiful color, high flatness, easy maintenance, not affected by climatic conditions during exercise, can greatly reduce the degree of injury during exercise, and is conducive to growth of young people development. With certain toughness, it is very suitable for laying on the foundation of roofs and cracks and has certain waterproof properties.
Choose the tennis surface material that suits you according to your preference and objective situation.