Can artificial grass be placed on the balcony? We usually associate this green rug with sports fields and gardens, but the truth is that it also looks beautiful in usually small spaces, such as balconies.
Additionally, it has several advantages over natural grass as it requires no water and no mowing unless you want to mow it. Therefore, we will explain how to lay artificial grass on a balcony and how to maintain it.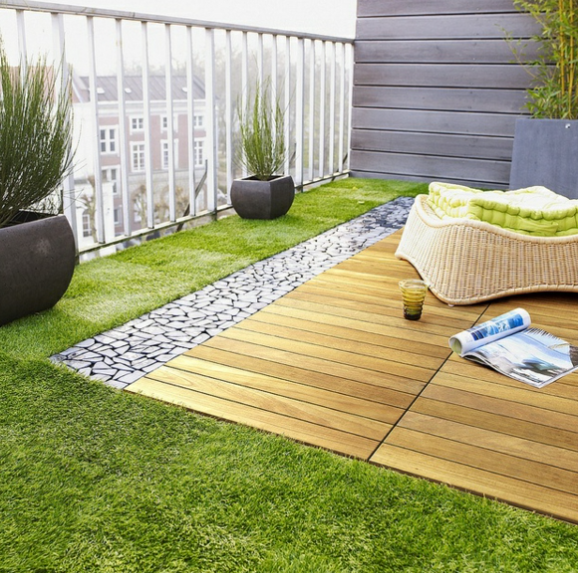 1 How should the artificial grass on the balcony be placed?
2 How to maintain artificial grass?
2.1 Removal of dried leaves and pruning debris
2.2 Wash with soap and water
2.3 Put the dish under the plant's pot
3 How to decorate a balcony with artificial grass?
3.1 A relaxing balcony
3.2 A piece of artificial grass on a minimalist balcony, the floor imitates wood
3.3 Artificial grass for a large balcony
How should the artificial grass on the balcony be placed?
Artificial grass is great. It allows you to cover the floor easily and quickly with little effort. Also, depending on its thickness, it can be very comfortable, allowing you to sit on its surface and also allowing children to play without touching the ground directly.
So how to put it on the balcony? For it you have to follow step by step:
Measure the surface on which the artificial grass will be placed: this is the most basic and the most important. With this information, you will know how many square meters you need.
Choose the type of artificial grass you want: thicker and thinner; with more or fewer stitches. If you have kids and/or plan to sit on it, ideally go for something thick, with at least 30 stitches per 15cm length, as this means it has a lot of 'hair'. More information.
Spread the grass from one side: This will make it easier for you to place it correctly.
Attach it to the ground: Once you have it unfolded, stretch it out so there are no "mountains", then glue the sides of your green rug to the ground with a special glue from artificial grass, like this.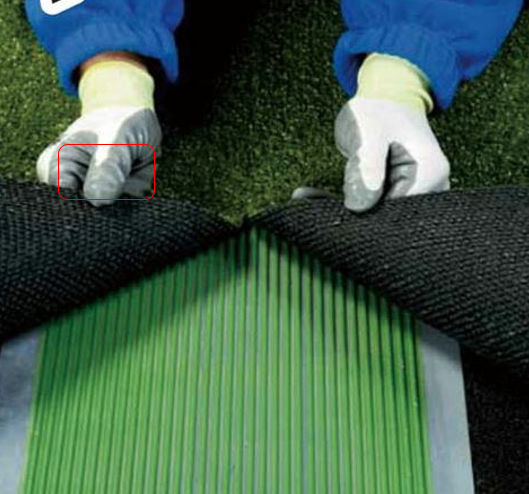 How to maintain artificial grass?
Laying artificial grass is one thing, but maintaining it is another. If we want it to last long, we have to do some maintenance from time to time. What are those tasks? Next, we tell you:
Remove dried leaves and trim debris
It doesn't matter if it's dirty or not, it's not good-looking, and the organic residue may attract fungi and pests. To avoid this, every time you trim plants, remove dry leaves or remove sprouting herbs from pots, you must Put them in containers or make compost with them.
wash with soap and water
Especially if your dog and/or cat can release themselves in it, it must be cleaned so that it doesn't go bad, as cat urine for example is very acidic and can make it look like it's been burnt. So, to avoid it, there is nothing better than wearing rubber gloves and washing with soap and water; then pouring clean water over it to remove the foam. Of course, do it at sunset, don't expose it to direct sunlight, or it will burn.
Place the saucer under the plant's pot
Artificial grass is waterproof, but if you're going to have potted plants on top, ideally place a plate under them so they don't get dirty or collect water between the pot and the lawn. But you have to keep in mind that many plants have roots that can't tolerate too much water, so you'll have to drain the plate after each watering; if they don't, they'll rot.
How to decorate a balcony with artificial grass?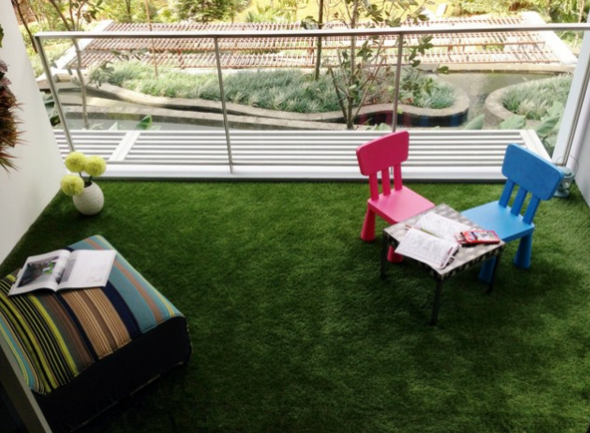 Artificial grass can be fun when you have a balcony to go out and relax. But, do you know how to decorate it with plants and/or furniture? If you are in doubt, we will tell you the best ideas so you can have a beautiful balcony:
a relaxing balcony
Artificial grass looks great on balconies
A long and not very wide pot with a lattice against the wall. Not a big climber, maybe it's the jasmine that makes the balcony smell good, or maybe it's the climbing roses that add color to the balcony. Then there's a two or three-seater sofa with comfy cushions in case one day we feel like taking a nap. Of course, there are also some chairs or hammocks for guests. How about it? This is a simple and very practical idea.
A piece of artificial grass on a minimalist balcony with a floor imitating wood
You can only place artificial grass on one side
It could be that you really like the floor on your balcony and want to see it. Well, no problem: buy a few meters less artificial grass and that's it. As you can see in the image above, it doesn't have any issues either. What's more, this way, you will have a cozy nook for reading or playing with your kids.
Artificial grass for a large balcony
You can put artificial grass on a large balcony
For example, if you use or plan to use your balcony for parties or family meals, you'll be interested in artificial grass and very little furniture: as long as guests want to sit, maybe a few tables, barbacoa. If you have kids, dogs, and/or cats, they will definitely love it.
So, don't hesitate to put artificial grass on your balcony. Click on balcony artificial grass.