Most people think that artificial turf is only suitable for professional sports or large-scale events, such as artificial turf for football fields, artificial turf for tennis courts, artificial golf greens, etc. In fact, artificial turf is becoming more and more popular both inside and outside the home. Artificial turf provides a lovely, unexpected design element for a home, garden, or office space, creating a whimsical fusion of indoor and outdoor spaces.
Artificial turf rugs are great indoors, and here are 7 stunning indoor artificial turf options for you to consider.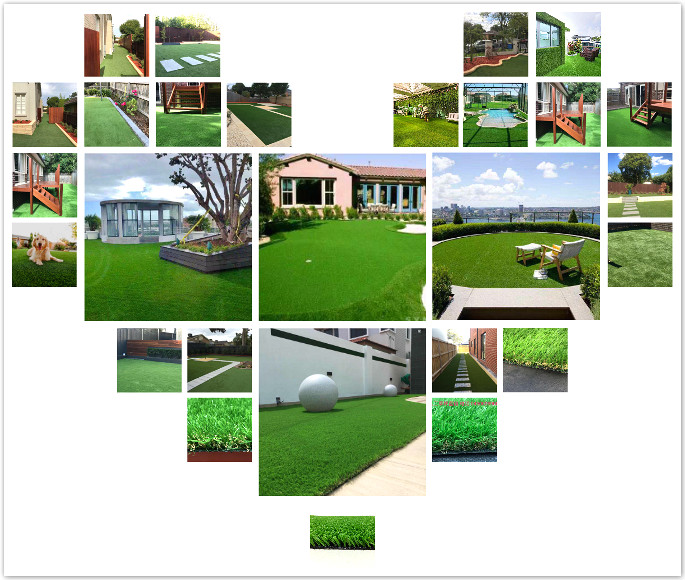 A piece of green on the balcony.
The most common place for artificial turf rugs is on balconies. With the addition of lawn rugs, balconies become more dynamic and attractive, ideal for high-rise condos, or spaces where outdoor activities are limited, allowing people to take their shoes off and relax. Artificial turf is great for gatherings and parties because they are easy to clean and can withstand frequent trampling and filter spills
Recreation area inside the house.
There's nothing better than walking into a room and lying down in a warm shelter with a drink. Artificial turf has a similar appearance and texture to natural turf. After people's imagination, it enriches the atmosphere of the room and enhances its charm of the room. Many rooms have tiled or wooden floors and hard feet can become cold and wet on winter or rainy days, neither aesthetically pleasing nor comfortable. Artificial grass rugs absorb and drain excess moisture so the cottage furniture stays clean and dry, plus a string of holiday lights is another inexpensive mood booster.
Well-designed creative garden courtyard.
Add a piece of artificial grass to your patio, balcony, or outdoor space to make the space dynamic and creative. Customizable artificial turf with individual shapes, sizes, patterns and colors. Some artificial turf is cut into circles or transformed to cover seating for benches or chairs. Try a square geometric design, or enclose your yard with a thick layer of artificial grass rug, this artificial grass rug can withstand rain, snow and wind and frost, and it may be the lowest maintenance part of your garden space! Placing it on the patio also facilitates quick cleaning with a hose if necessary. Artificial grass rugs are great for team sports or individual fitness, while also providing a picnic area and play area — think bocce, water polo or a classic group dance, you can even add a trampoline to the artificial grass rug for added fun.
An element of adventure to the playroom or children's bedroom.
Add a faux-turf rug to your child's bedroom, nursery, or playroom for a bit of outdoor wildness. Playing on the artificial grass rug stimulates children's imagination and adventurous spirit, and they will love it! This is especially beneficial for kids who grew up in cities or apartment buildings, where they don't have yards or playgrounds. Artificial turf can make up for this regret. Also, think of artificial turf as an investment in protecting floors in your home—most artificial turf is durable and stain-resistant. In addition, most grass carpets have some friction on the back for safety, security and stability. The artificial turf is soft and elastic to the touch and can be played on, and pets will love it.
Beautify the room and fitness area.
Artificial grass rugs are perfect for the entire home, adding a stylish fresh green to the living room, making the space color lively and impressive, and a great choice to start a conversation. Artificial grass rugs come in different lengths—from short and streamlined to long, fluffy strands of grass that are soft and thick enough to lug your feet into them luxuriously. Combine your artificial grass rug with natural wooden furniture, imagine waking up in the morning, the first ray of sunshine comes in through the window, when you get up and step on the soft grass with bare feet, that moment is beautiful! Synthetic grass rugs are also suitable for home workouts and fitness areas. They are non-slip and dirt-resistant, and they are beautiful and do not affect daily training!
The artificial grass lights up the office space.
Artificial grass rugs are also suitable for office rugs. Whether it is a modern style or a classic decoration, artificial grass rugs are a refreshing presence, helping to cultivate employee motivation and improve work efficiency. Workplaces are often dull and suffocating, but by adding a lawn rest area where employees can take off their shoes and relax for a while, it's a very pleasant thing to do and be more productive at work. At the same time, artificial artificial turf can be laid in the conference room to make the conference more attractive and less serious.
The wall is decorated with artificial grass carpet.
From the ground to the wall, breaking the fixed thinking that artificial turf can only be used on the ground, a popular new trend in interior design is to use turf rugs on the wall to increase the special texture and brightness of the space environment. As long as you use your imagination, artificial grass rugs can even be carefully designed as a bedroom background wall, which is cool, right? Whether it's a tidy living space or a children's bedroom, DIY a framed artificial lawn on the wall is a fun and novel existence, and visitors to your home will be amazed at your creativity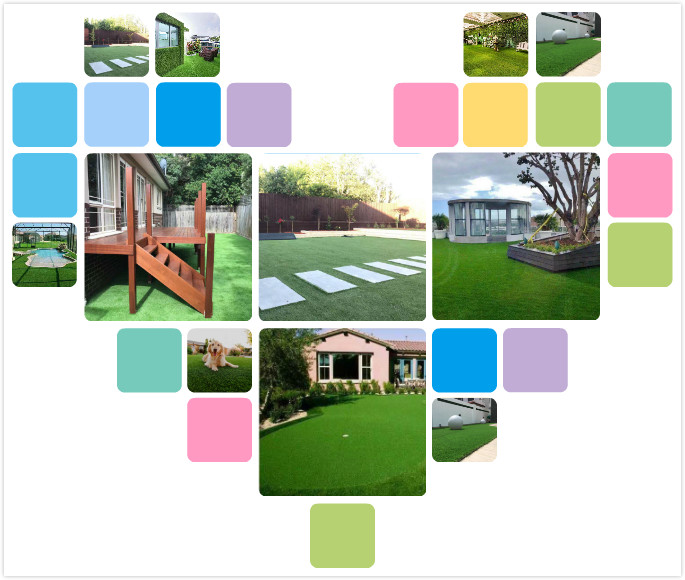 There is no doubt that artificial turf rugs are an affordable alternative to a work of art or professional furnishing, whether indoors, on balconies or in the garden, the creative combinations of artificial turf rugs are endless. Of course, artificial turf comes in many sizes, styles, colors, lengths, and densities, so consider comfort, intended use, and your personal style before you choose the right artificial turf rug.