The main raw materials of artificial turf are plastic particles, masterbatch, base cloth, and raw rubber. The upstream industries of the artificial turf industry are mainly petroleum and petrochemical industries. The petroleum and petrochemical industries are relatively mature and their prices are relatively transparent. The supply of raw materials in the artificial turf industry is sufficient, but the fluctuation of raw material prices has a direct impact on the cost and profitability of artificial turf companies.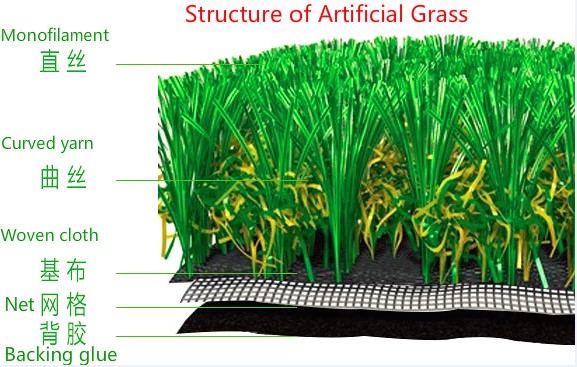 Artificial turf is made of synthetic resin such as PE (polyethylene) and PP (polypropylene) into imitation grass yarn, which is then woven on the base fabric through professional equipment, and coated with a fixing coating on the back to make it. Chemical products with natural grass properties.
1. Artificial grass is suitable for sports fields and running tracks in universities, middle schools, primary schools, kindergartens, etc., because artificial grass football fields can meet high-traffic sports competitions and training.
2. Football field training and competition venues in stadiums, high-standard sports fields need to match high-performance football artificial grass, such as FIFA series artificial grass. In addition to satisfying football fields, artificial grass also has artificial grass series for tennis courts, basketball courts and so on.
3. The cost-effective artificial grass is suitable for profitable football fields, futsal, multi-purpose sports fields, etc. It meets the requirements of investors with low investment and high return because after the artificial grass is invested, the maintenance cost in the later period is very low. , open 24 hours a day.
4. The products of golf sand-washed greens and non-sand-filled greens, hitting practice mats, driving ranges, etc. meet the needs of hotels, resorts, and golf clubs.
5. Floor and wall decoration, such as offices, building roofs, shopping malls, retail stores, restaurants, cafes, children's play places, wedding venues, events, supermarket display decoration, etc. Because artificial grass does not need watering and sunlight, it remains green all year round.
6. The packaging method of artificial grass is that a roll of 2/4*25 meters needs to be installed, and divided into small pieces (for example 1*1M, 1*2M, 1*3M, 1*4M, etc.). Home improvement stores, supermarket chains, outdoor furniture, outdoor leisure, outdoor sporting goods, online stores and more for DIY sales.